Welcome to the British Car Club of Manitoba web site. This is your source for information on British sports cars in Manitoba, Canada.
You're invited to join us and attend any of the events on our yearly calendar, whether you own a British car or are just interested in them. The members of the British Car Club of Manitoba look forward to meeting you and sharing our mutual experiences with these "Little British Cars".
Many of the Events that are sponsored or participated in by the British Car Club of Manitoba are held in conjunction with other car clubs like the Austin Healey Club of Manitoba and Mid Canada Mini Group of Manitoba.
If you own a British Car, consider becoming a member of the BCCM. Cost is only $20.00/year. Checkout "Club Info" for more information. To view the current membership, and see some of their cars, checkout the Members Page.
---
Updates!
September
Information for the Fall Colours Tour and three Fall Supper runs has been added to the Events page.
April
The membership has approved a change to the club name! The Triumph Driver's Club of Manitoba is now the British Car Club of Manitoba! New name, same great club!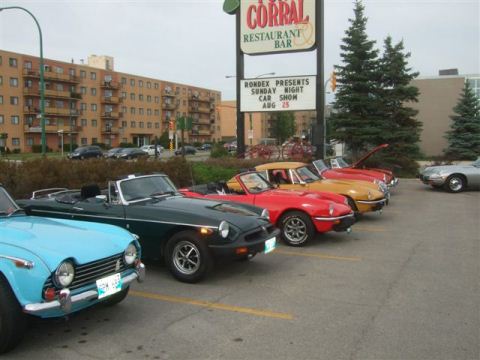 British Car Night at the Pony Corral 2013
&copy 2018 - British Car Club of Manitoba